[envira-gallery id="36″]
Chitkul-land of the misty mountains. Along the secluded roads of the valley, all I could think of was, "I could live here."
We stopped an odd 15 kilometers before Chitkul for lunch at around 1 30 pm. We entered a little guest house-restaurant, to our surprise filled with families. Since it was a small place, we had to wait for one family to finish. Any restaurant you visit in these areas, your best option is plain Indian food or pancakes which are quite good. I would not recommend non-vegetarian food. Since it is difficult to get chicken in these areas, there's no doubt they put any kind of edible meat available.The last 10 kilometer stretch to the village, you come across all the fantasy lands often read about in books and seen in movies. Tall green trees, on a bed of rocks, not a single turn of road in sight, not knowing where you are, it will be like a dream you get flashes of for a long time. We reached the village at around 3 pm, and began hunting for a cheap accommodation. We stayed at Shruti guest house paying 300 rupees per night for accommodation. You can even camp by the river in the village. But make sure you have your warmth supply intact as it is very cold in the day and even colder at nights. The weather up until Sangla valley is pleasant but it gets really cold here. You can dine in one of the restaurants in the village till before 10 o clock.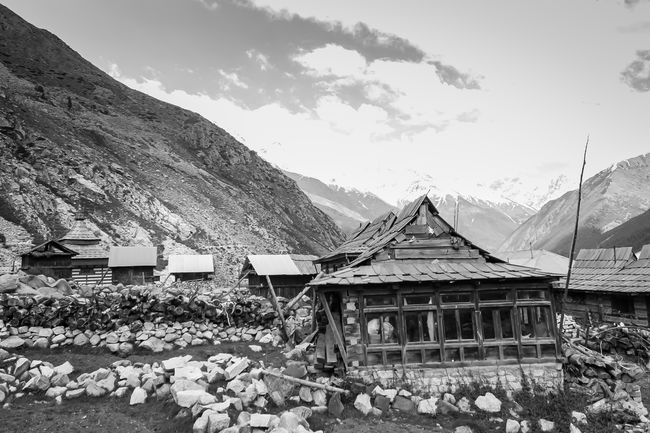 We decided to go down to the river and saw a procession by a very large group of men, women and children. Drumbeats and the sound of some sort of blow trumpet and chanting could be heard. They all had a souvenir of the hunt they just made! We walked on to discover it was China we were walking towards. Someone from the procession told us we aren't allowed to go further. We went down the river through 'India's road', chilled our beers and froze our legs in the cold water. While coming back, we sat on the edge of the road finishing our beers and looking at the clouds touch the river water at the foot of the hills. If you're quiet enough, you can almost hear the wind rumble. It was hauntingly quiet as darkness began to descend and we walked through the village. (We had brought our beer from Delhi. The only alcohol available here is their local alcohol)
The room was dingy because of low voltage which is prevalent in these areas, so it's best not to rely on technology while in these parts. If you are, indeed a nature lover, you wouldn't feel the need to. Watching the night sky was a delight. I could see innumerable stars, the big white moon above us, with a faint hissing sound of water flowing around.
However scared I was to go around the village in pitch darkness, I told myself, I am capable! I walked up the village and was glued to a spot for a good 15 minutes. I felt like a tiny speck of nothingness. And that feeling of being so little, has changed me as a person. Accepting one's own Invaluable, tiny being is something that will make you grow, LIVE! Nothing but the snow caps of the mountains illuminating the entire village. If we could ever live inside a painting, this is what it would feel like. Only the colors alive around you, everything else still like Keat's 'Ode to a grecian urn'. I kept moving around in this great painting like a mad person. I walked back to the guest house and even inside the room, all I could feel was that. Try and go out in the night however scared you feel. It is something the city can never offer!
We woke up to the mountains wishing us a great morning and we set out again to eat and take in what we had come for.